NEW YORK: North America's Largest Specialty Food & Beverage Event will be in New York City from June 29 – July 1, 2014. Discover 180,000 products including confections, cheese, coffee, snacks, spices, ethnic, natural, organic and more. Connect with 2,400 exhibitors from 80 countries & regions.
Buyers and suppliers get together
The Key Buyer Program is a complimentary VIP program for our most qualified retail and foodservice buyers. It is designed to facilitate private meetings between buyers and their manufacturer partners. It helps you cut through the busyness of the tradeshow floor by putting buyers and sellers face-to-face through private meetings, as well as Business Builder 1-to-1 networking sessions (held the Saturday before the Show opens).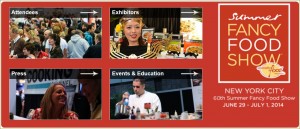 Let Us Be Your Concierge
Private Meetings (personal meetings in private suites); Sunday, June 29 – Tuesday, July 1, 2014 8am-5pm
How do the Private Sessions work?
All companies are individually handpicked and appointments are set up in your own private suite, off the show floor.
We set up appointments with the vendors you would like to see based on your specific needs.
We are very flexible and will work the meetings in any way to accommodate you.
When and where does it take place?
These sessions take place whenever you would like during the show from Sunday, June 29 – Tuesday, July 1 (8am – 5pm)
To sign up in Private Meetings or request more information contact:
BUYERS to sign up for Private Meetings or request more information contact:
Lisa Werner at lwerner@specialtyfood.com or
EXHIBITORS CAN NOT SIGN UP TO PARTICIPATE IN PRIVATE MEETINGS
You will be contacted if a buyer requested a meeting with you.