Prices for honey import
Top prices (not average ones) for import of honey into the USA were notably higher in September than in August: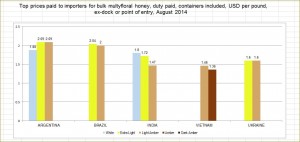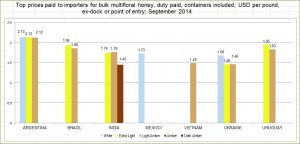 Typically, honeys from South America are the most expensive whereas Ukraine and Vietnam supply less expensive honeys. However due to generally lower harvest output this season, especially on acacia honey, the trend to price increase is expected to sustain.
Please consider below a variety of honeys we can currently offer for competitive prices. Again, acacia honey is very scarce this year and what is left goes at premium price range.
Acacia honey from location in the US
European origin (Romania), at EXW $3.32/pound ($7.32/Kg); 12 drums 290 Kg each
USDA Organic (Ukraine) from location in the US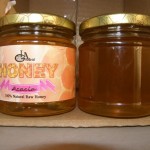 –       Sunflower, 45 mm Pfund, in 62 lbs buckets and in 200 L drums;
–       Acacia,13 mm Pfund, in 200 L drums;
–       Buckwheat, 98 mm Pfund, in 200 L drums;
–       Linden, 50 mm Pfund, in 200 L drums;
–       Polyfloral at CFR $4190/MT ($1.90/pound) at US ports.

Organic White Canadian honey

18 mm Pfund, 200 MT, 1FCL monthly at EXW $2.50/pound ($5.51/Kg), located in Canada;

Polyfloral honey from Ukraine
45 – 55 mm Pfund at FOB $3575/MT at port of Odessa Ukraine
Polyfloral honey  from Ukraine
40 – 44 mm Pfund 2FCL ready to go at CFR $3500/MT ($1.59/pound) at US ports; certificates available.
Polyfloral honey from Thailand
41 mm Pfund at CFR $3000/MT ($1.36/pound) at US ports; certificates available. Located in Germany.
Polyfloral and Lychee honeys from India at CFR $3375/MT
Please note that CFR means price upon delivery to a destination port. Certificates of quality and analyses are available. Color is in the range of 25 – 50 mm Pfund.
Manuka honey supply from New Zealand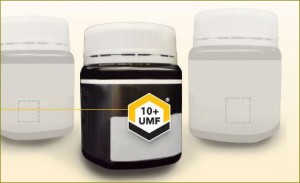 Active manuka honey of desirable activity of UMF +5, +20, etc., is available upon request from over 50 licensed suppliers in NZ. Also, blended manuka packed in 200 L barrels is available in large volumes at CFR $20/Kg at destination ports.
Please let us know if you are interested in any of the above opportunities. Prices and supply available are subject to change.